Interview by Angie Taylor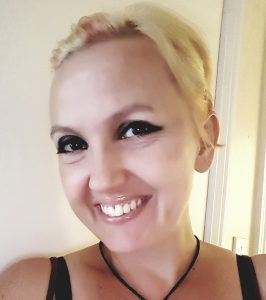 Welcome, Christina L. Rozelle, to the BOD author spotlight interview!  I'm so excited to get to you know you better and to share all your fun details with everyone at Band of Dystopian Authors and Fans.
Thank you so much for having me! I fell in love with this place the moment I joined, and I'm super excited to be a part of such a great group of fabulous, like-minded people.
Can you tell us when you knew you wanted to be a writer, and what motivated you to begin this adventure?
I've always wanted to be a writer, I think. But the moment it was set in stone was in sixth grade when we had to write mystery stories as a project and my teacher thought mine was so good that she asked if I'd read it for the class. I was so terrified, but I did, and when my class loved it and asked for a sequel, I knew it was what I was destined to do. Admittedly though, I wrote poetry and attempted short stories for twenty years before I tried my hand at novel-writing three years ago.
I love the world you have created in the Treemakers.  There's a mixing of sci-fi with dystopian.  Can you tell us where you came up with the idea for the world building of this story?
The Treemakers is my first published novel, but it is my fourth finished novel (including the entire rewrite of The Treemakers). A lot of the ideas and themes from the story came from my first novel, The Butterfly Prophecy. Though that one wasn't publishable, it spawned a whole mess of ideas that have been sprinkled here and there throughout other stories.
I watched a lot of sci-fi, dystopian/post-apoc, as well as James Bond, Indiana Jones, and Charlie's Angels as a child growing up. I thank my dad for raising me right (lol), and I'm sure that all added to the world building as well.
To me, the sci-fi elements surrounding the portal room represent goodness in a world that is dark and ugly.  Does the portal room have any symbolic meaning to you?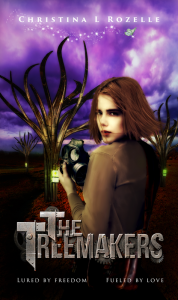 Yes, definitely. Coming from a dark, rough road myself, I have firsthand experience with finding that light, hope, and thirst for freedom that exists in even the deepest darkness. I'm also a firm believer in magic through miracles, and that some things may not be explainable in the midst, but further down the road when you look back, you'll see "the way the magic works."
Joy is one of my favorite characters.  I love her story telling.  I also love that she is such a natural caretaker of those she calls brothers and sisters.  She also has an edge to her that makes her a great heroine.  Is there anyone in real life that she is modeled after?  Are any of the other character's created from real people?  Who do you most relate to?
Joy and I do share a lot of qualities, but she isn't modeled after me. My characters may take on characteristics of many different people, but for the most part, I like the freedom of letting them become who they are to become. Many of their qualities didn't fully blossom until the second writing of The Treemakers. At that point I felt like I really knew them, as if they were real people. I love that.
What authors or people have most influenced your writing?
J.K. Rowling will always be my number one author hero, though her writing hasn't influenced mine, necessarily. Our stories (before she was a kajillionaire) are similar, and she's given me a lot of hope, as far as pushing forward, being true to myself, and following my dreams, regardless of what anyone else says or thinks.
I began writing my first YA novel in 2012 and had never really read much YA before that. My then eleven-year-old handed me The Hunger Games and I devoured the whole series in two weeks. After that, I moved on to Divergent, The Maze Runner, Prodigy, and The Host (not YA but still amazing), and those series fueled my determination to take this thing head-on. So, a big thank-you to Suzanne Collins, James Dashner, Veronica Roth, Marie Lu, and Stephenie Meyer as well.
If you could spend a day with one author, who would it be and why?
It would be a tie. I have a thousand questions for J.K. Rowling, and one for Veronica Roth: "WHY?"
Besides your book, if you had to live in a dystopian book world, which one would it be and why?
I'd probably go for the Divergent dystopian world. I have a serious (perhaps unhealthy…?) book crush on her character, Four. Plus, a deteriorated Chicago would be pretty cool to explore.
One last question.  When is the next book in The Treemakers coming out?
The audio version of The Treemakers will be available in May. Book two, The Soulkeepers, is expected to publish on September 3rd. There are three books planned for the series.
Thank you so much, Christina Rozelle for sharing your talents and self with us, and creating fun stories for all of us at BOD to get lost in.
Sixteen-year-old Joy Montgomery, daughter of Zephyr the Magnificent, the great magician, can only reminisce of better times. Before the Superiors. Before the uprisings. Long ago. Before the dying Earth ripped the family she loved away from her.
In this desolate dystopian future, the Greenleigh orphans are "privileged" with the task of building mechanical trees for Bygonne, so their world behind The Wall can breathe another day, and so the Superiors may continue their malevolent reign.
Lured by a yearning for freedom, tenacious curiosity, and hunger for adventure, Joy discovers hope and magic amid the misery, and power in her promise to care for those remaining, whom she loves enough to risk her life for. To save them, herself, and the boy she adores from the abuse and slavery by the Superiors, Joy must entrust the aid of an unlikely ally who harbors a dangerous secret.
With an intriguing stranger at the helm, Joy and the treemakers embark on an intense and terrifying, yet liberating quest for the truth about the existence of the forbidden paradise beyond The Wall.
THE TREEMAKERS
*Please note: This is the first book in the series. The second book will be available late 2015. This story is intended for mature young adult audiences and contains themes that may be disturbing and/or offensive to some people. If you find abusive, sexual, violent, deeply intense emotional, and/or character death events disturbing and/or offensive, this book is not recommended for you or your children. Though please keep in mind this story balances those events and sequences with love, friendship, integrity, strength, nurturing, hope, perseverance, determination, and the fight for freedom from bondage. This story is not intended for the weak of heart.
ABOUT CHRISTINA L. ROZELLE
Christina L. Rozelle is a mother of four currently residing in Dallas, Texas. She enjoys fiction that shines a light in the dark; has emotion, intensity, verve, depth, and truth. She writes what she'd love to read. Though her focus is currently YA speculative fiction, she dabbles in other genres as well, including adult speculative, fantasy, addiction/recovery fiction, and other general fiction.