Interview by Angie Taylor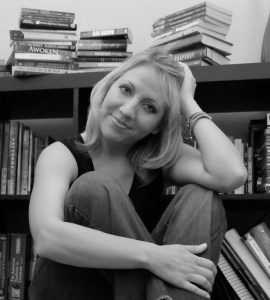 Welcome, Sarah Noffke, to BOD's author spotlight interview. I'm so excited to feature you on the BOD blog and to share a little bit about you with our members.
Thanks so much for the interview. I'm constantly praising the BOD group. There isn't a group of readers and authors who are more fun or supportive of each other. I'm super grateful to have found BOD.
To start off, why don't you tell us a little bit about yourself?
I'm a NA and YA author of ten books spanning four different series. I write dystopian, fantasy, and sci-fi. During the day I'm a college professor, teaching online business and writing courses. Most of my students don't know that I spend my nights creating stories about imaginary characters with serious problems.
That is so fun. You sound like my kind of teacher. So, how did you become a writer?
I guess I was born a writer. I can't imagine a reality where I didn't write. For most of my childhood I sat in a tree and crafted poetry and stories. In college I wrote more really awful poetry. Only after I finished my masters did I turn my attention to writing novels. I used to have a professional job where I sat in meetings. It was a great job, with a ton of upward mobility. However, I felt stuck. I would go to the library every single day feeling like I was looking for something. I remember closing my eyes and running my fingers over the spines of the books and then stopping randomly. You see, I thought the universe would put the right book under my fingertips. It was only later that I realized that I wouldn't find the book I was looking for in that library. I wouldn't find it anywhere because it hadn't been written yet. Once I wrote my first novel, Awoken, that searching feeling went away. I've never felt lost since then.
Awesome. And now you've written ten books in less than two years. What's your secret to such an amazing creative streak?
Thank you! I feel super blessed to have so many stories in me. I think it's partially that I crafted a book universe that really lends to some fantastic potential. All of my books are about a race of people known as Dream Travelers. They can go anywhere using their dreams. There's many laws and time travel is a real possibility, although dangerous. And every Dream Traveler has a psychic power like telekinesis, telepathy, clairvoyance, etc. Anyway, having different series inside the same universe has given me lots of possibilities. And the books share characters.
Also, I'm dedicated to this occupation. I make myself write every single day no matter what. I go to the gym religiously and I always write on the treadmill. Finding a strategy like this has really helped my production. I only get one opportunity to make this author thing work. I don't want to fail, so I've pushed myself to produce.
I love and admire your dedication. Now tell us a little bit about Suspended, the first in The Vagabond Circus series. What can you tell us about this paranormal dystopian world?
Suspended is about a circus unlike any other. There's no clowns or animals at Vagabond Circus, only freaks. The troupe is run by the extremely lovable Dr. Dave Raydon who recruits only lost and lonely Dream Travelers to perform in his circus. The thing that makes this circus so special is that there isn't any smoke and mirrors. Everything the audience witnesses is absolutely real because the performers all have a unique super power. The jugglers are telekinetic, the acrobats can levitate or have super strength, and the magician produces real illusions. However, even though this circus is loved by its patrons, it's still financially falling to pieces. To try and save his circus, the ringmaster recruits a mysterious new acrobat. And that's when events start happening that threaten the very safety of the performer's lives.
One major theme I see in Suspended is the taking advantage of the vulnerable, giving them a false sense of security, and then using them for one's own personal gain. Can you tell us more how this theme is central to Suspended?
The strong prey on the weak. It happens in politics, families, communities, and throughout history. I used this theme to really add the dystopian feel to the novel and the series overall. I think that it's a timeless theme that can really be revisited on multiple levels. For me, the most loved protagonists are the ones who have to claw their way up from low places, and they starts with taking off the blinders. In Suspended we meet characters who first have to realize they are being suppressed before they can bolster the strength to fight against their oppressors. And even then they find themselves at a serious disadvantage because conditioning is a powerful tool.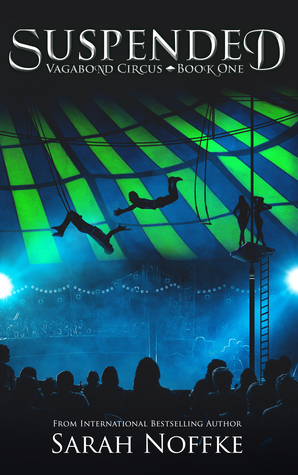 Cool. I've really enjoyed Suspended. It's fun to learn more about it. Now, I'd love to learn more about you. Can you share what your favorite book was as a child and what your favorite book is as an adult?
I was a really hardcore gymnast as a kid. Not only that but I also didn't read a ton of fiction. I was the atypical kid who read self-help, poetry, and autobiographies. Yep, that's right. Is it any wonder that I now write YA? It's like I've reversed things. Anyway, I read Bela Karolyi's autobiography as a kid, Feel No Fear, and it has always stayed with me. He's the Romanian coach who took Nadia Komanich, Mary Lou Retton and Kim Zmeskal to stardom at the Olympics. His message is in the title and how I try to lead my career. Feel no fear. Put yourself out there. Throw yourself into a backflip. Find out how you land and get up and do it over and over again until you've reached your goals.
Favorite book as an adult is undoubtedly The Great Gatsby. It's the book that started my love affair with literature…and Fitzgerald.
What a solid great reading background! It's apparent from your book output that you are influenced daily by your experiences. Now on to something less serious. You magically find a $100.00 bill in your box of cereal. First off, what kind of cereal are you eating, and in what frivolous way would you spend the money? (Key word: Frivolous!)
It's a boring granola something or another. Low in sugar, high in vitamins. This is why I skip breakfast. What's the point? But if there was a potential to find money, different story.
So I'm not really high maintenance. Shopping makes me want to punch myself. Really I'm a gal who if I had the extra money for frivolous things I'd throw it away on experiences. I'd love to go parasailing, hot air ballooning or even take a flying trapeze class.
That's perfect. You're experiences are probably why you have so many stories in you.
So, let's say you've been locked in a bank vault Twilight Zone style, so you finally have time to read! Your glasses are fine (whew!) so what's the first book you crack open?
Maggie Stiefvater's The Raven King, the final installment in The Raven Cycle. That author makes me avoid responsibility like crazy when I'm reading her books.
I love books that do that!
So, if you followed the career path you chose for yourself in high school, what would you be doing for a living now?
I would be a psychologist. Gosh, that would have made for a whole different lifestyle. You can't drink on the job when you're a therapist. At least I think that it's frowned upon. But writers, we can do whatever we want…and usually do.
But, hey! Look at all the psychology going on in your books. I bet that's not a coincidence. Next. For one day, time travel is a reality—which fits right along with your books—and you can visit any famous deceased author you want. Who do you pick?
No question. F. Scott Fitzgerald. Zelda can't be there. My plan won't work if she is.
Haha! Too funny.
​
What's your favorite motivational quote and why is it your favorite?
Hard to pick just one.
"Whatever we think about and thank about, we bring about."
John Demartini
Ooh, I've never heard that one. I love it. Okay, one last question. If you could sum up your best marketing advice for new writers in only four words, what would it be?
Believe in your books!
That's perfect advice. It even made me teary eyed as I think about my own writing. Thank you so much, Sarah, for spending time with all of us at BOD and for sharing your talents. I'm excited for everyone at BOD to get to know you better.
Thank you so much for having me. Love my BOD family. Can't do what I do without you all.
Sarah Noffke writes YA and NA sci-fi fantasy and is the author of the Lucidites, Reverians, Ren and Vagabond Circus series. She holds a Masters of Management and teaches college business courses. Most of her students have no idea that she toils away her hours crafting fictional characters. Noffke's books are top rated and best-sellers on Kindle. Currently, she has eight novels published and a new series scheduled for release early Spring 2016. Her books are available in paperback, audio and in Spanish and Italian.
To stay up to date with Sarah please subscribe to her newsletter: http://www.sarahnoffke.com/connect/
Follow Sarah Online:
Newsletter
Website
Amazon
Facebook
Goodreads
Twitter
Instagram