Interview by ER Arroyo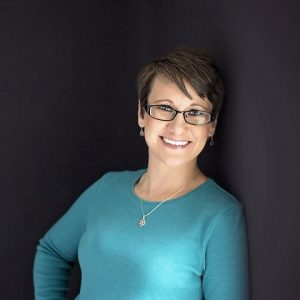 Today, it's my pleasure to introduce you all to Author Sarah Negovetich. We came in contact through someone I met last summer at UtopYA Con in Nashville, Ethan Gregory. I saw him pimping Sarah's debut novel, a YA dystopian called Rite of Rejection, on Facebook and I sent him a message encouraging him to convince her to join BOD, knowing her book would be sure to find an audience with our members. Sure enough, Sarah fits right in with the BOD crowd, and I'm thrilled to have her joining us on the blog today! So, Sarah, thank you for being here! I'm excited for our readers to learn more about you and your awesome series.
First, please tell us a little about yourself and your Acceptance Series.
Hi! Thanks for having me and welcoming me into such an amazing community. I'm a YA author and literary agent, based in the middle of nowhere Texas. The final book of the Acceptance Series (Rite of Redemption) just released last week. The series follows a teen who's convicted of a future crime and sentenced to life in prison while she attempts to reclaim her freedom.
We love YA dystopian around here. What inspired you to jump in on this genre for your debut series?
It wasn't on purpose. I was working on a fantasy series and a steampunk when the idea for this story hit. I just got the what if questions stuck in my head. What if we could identify criminals before they committed their crimes? Who would be in charge of identifying them? How would that kind of power impact the wielder? The more I delved into it, the more it became clear that this needed to be a dystopian story.
Your books touch on social issues such as gender roles and diversity (interracial relationships, as one example). Were these subjects something you wanted to make a point to address or something that grew organically as you went along?
I knew going in that I needed to have a diverse cast that reflects the world we live in. How that showed up in the different characters was very organic. I tend to let my characters tell me who they are as I'm writing the first draft. In regards to gender roles, that was very intentional. Everyone talks about the world 70 years ago as if it was the golden age. I wanted to recreate that time period in my story world and highlight some of the ways it wasn't the utopia it's depicted as.
What can readers who haven't read your books expect from the series?
Eek, hopefully an entertaining read. 😉 They should definitely expect a darker world. I don't pull punches in my stories so the ugly and gritty part of life is shown in all its glory. That said, I like to think my books also offer glimpses of the best humanity has to offer.
Now that the series is finished, what's next?
No rest for the weary. I'm already working on my next project, which will be a stand-alone YA Sci-Fi. I'm really excited about this project, but I'm not ready to share many details yet. I will say the tentative title is GHOST CODE and readers should expect another dark story with high emotions in the midst of lots of tech.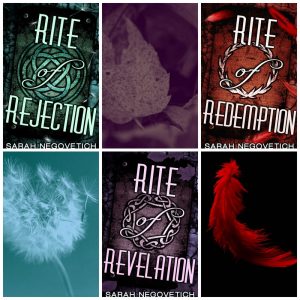 What would you like your existing fans/readers to know?
I really want my readers to know how much I appreciate and value their feedback, both in reviews and emails. I am completely serious that I only ever planned to write Rite of Rejection. Revelation and Redemption are a direct result of readers reaching out and pleading for more of the story. I am out of a job without my readers, and you guys rock!
BOD has a lot of writers, and I'm sure they'd love to know a little about your approach to writing. Are you a plotter or pantser? Is there anything special or unique about your writing time?
I'm a hard-core plotter. I live by Save the Cat and plot out every scene before I start writing. That said, I try to plot on a high level so that the details of the story can happen more organically as I write. As far as routines go, I intentionally don't have one so that I'm able to write whenever I have the opportunity. With kids, life is way too unpredictable to get hung up on a routine that has to be in place to write.
Does being an agent impact your approach to your own writing career? If so, in what ways?
I think so. As an agent, I have a closer look at exactly what editors are asking for and what is most likely to sell. For example, when I finished Rite of Rejection, I knew that editors were done with dystopian even though readers were not. So I let my agent shop the story, but we only went through one round of submissions. I also understand the advantages and disadvantages of different publishing models, so when we got an offer on the story, I was able to evaluate it more objectively than most authors in order to make the decision to self-publish.
Okay, forget the books for a minute. Tell us something about Sarah! It can be anything.
Even though I tend to write darker stories, I'm actually a super positive person. Like borderline annoyingly positive. I'm also pretty chipper and tend to smile all the time. So, I guess you can't judge an author by their books. 😉
Thank you again for joining us today and for being such a great part of the BOD family!
ABOUT SARAH NEGOVETICH
Sarah Negovetich knows you don't know how to pronounce her name and she's okay with that.
Her first love is Young Adult novels, because at seventeen the world is your oyster. Only oysters are slimy and more than a little salty; it's accurate if not exactly motivational. We should come up with a better cliché.
Sarah divides her time between writing YA books that her husband won't read and working with amazing authors as an agent at Corvisiero Literary Agency. Her life's goal is to be only a mildly embarrassing mom when her kids hit their teens.
FOLLOW
​Website
Amazon Author Page  
Facebook
Twitter
Instagram