Interview by Angie Taylor
Welcome, Kathy Dinisi, to this week's BOD author spotlight. It's so nice to have you.
Thank you, for letting me be a part of it.
We're happy to have you. Speaking of BOD, how long have you been a member and what's your favorite thing about BOD?
Ummm, I've been a member for a while now. I love finding new authors. Especially when they write about zombies:)
Now tell us a little about yourself? How long have you been an indie author? What's your favorite thing about writing?
I've been an indie Author for over a year. I love creating stories that can make the reader forget about their everyday stressful lives, even if it's just for a short period of time.
Perfect! Those are my favorite books to read. So, tell us about the kind of books you like to write. What are you favorite books to read?
I mostly like to write in Horror and Sci/fi but lately I've been venturing out and writing in romance and Fantasy.
Hell Bound: A Vacation from Hell really does read like the worst vacation ever or the best high adventure ever, depending on your perspective. What can you tell us about choosing a vacation going so horribly wrong as the premise for your story?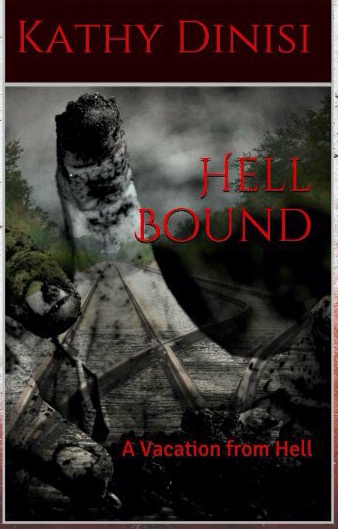 Well, I figured it would make the story a little bit more interesting and catch the reader's attention.
As a parent, I can't imagine being separated from my kids with a potential zombie apocalypse occurring. It creates the perfect tension in Hell Bound. Can you tell us about Sam and Matthew and how they handle being away from their kids when they suddenly become surrounded by zombies?
Well, Sam lost her marbles once or twice in the Hell bound series but then again what mother wouldn't? But with Mathew by her side she was able to pick herself up and fight through Hell to get her children back. Together they are stronger and can make it through anything.
What can you tell us about your other books outside of Hell Bound?
Well, my Sci-Fi series Arrived is about aliens invading the planet. Now, who doesn't enjoy a good alien story? And my new book, which is releasing October 2016 (Horror), is about five friends who embark on what was supposed to be an adventurous ten-mile hike. They hike to a hidden bridge built in the middle of a mountain that not very many people know of. What was supposed to be a beautiful, enjoyable, relaxing weekend, becomes more then they could bargain for full of screams and horrors that you have only dreamt of in your worst nightmares. Trapped in the middle of nowhere these five friends wonder if they will make it back to safety or if the monsters of the mountains chase and pick them off one by one. Who will survive? Who will die?
Sounds intriguing. You'll have to remind us when it comes out.
Are there any current writing projects you'd like us to know about?
I am currently writing a new story but I'll leave it as a surprise because I'm not too sure of the name yet.
What do you do when you're not writing? 
When I'm not writing I'm reading, hiking, swimming, studying for school and of course spending time with my family.
Sound likes time well spent. On another note, if you could spend a day with any author, living or deceased, who would it be and why?
Stephen King!! That man has a crazy mind and I would love to ask him a billion questions!
Can you believe I've never read anything by Stephen King? Crazy, I know. I'll have to rectify that.
One last question. Are there any crazy hobbies or fun facts about yourself that you'd like us to know about before we part?
Hmmm, hiking is on the top of my list of hobbies. I'm such an outdoorsy person. But I do enjoy snowboarding during the winter season.
Awesome! Well, thanks for spending time with us and for sharing a little bit about you with us. Happy reading and writing!
ABOUT KATHY
Kathy is from sunny Southern California and loves to spend her time with her two young boys and loving husband, whether it be at the beach, the park or just lounging around the house.
She started writing a few years ago but has always been an avid reader. She enjoys reading apocalyptic horror stories, romance and paranormal just to name a few. One of her favorite authors is Stephen King.
And she loves her readers and stalkers. So make sure to follow her online!
Book Links
Road on Goodreads
Hell Bound: A Vacation from Hell on Amazon
Hell Bound: A World Apart (Book 2) on Amazon
Hell Bound: Till Death Do Us Part (Book 3) on Amazon
Arrived on Amazon