Interview by Angie Taylor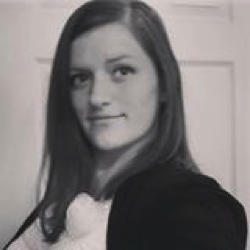 Welcome, Elizabeth Nelson, a.k.a E. M. Nelson, to the ON THE BOD BLOG author spotlight interview. It's so fun to have you!
​
Thanks for having me!
I love meeting new authors and getting to know BOD members. How did you hear about BOD, how long have you been a member, and what is your favorite part of BOD?
​
I was introduced to BOD through a fellow author, who also happens to be a member. She read the premise of the anthology I was working on and thought that BOD would be an awesome place for feedback on it, which it has been. I joined a little less than a year ago and have loved it every day since. I do have to say the BOD parties are a big fave of mine, but my absolute favorite part is the camaraderie between all the members.
​How long have you been a writer? Was it something you wanted to do ever since you were a child or was it something that kind of happened as an adult?
I have always wanted to be an author. I fell in love with reading at a young age and wondered what would happen when I had read all the books in the world. (I had some unrealistic goals back then of reading a book a day for the rest of my life.) So I gave writing a shot in grade school while working on a project for my English class. Most of the students laughed at it but the teacher assured me I had a knack for telling a story. His encouragement led me to write several small stories, none of which will ever see the light of day, but all of which prepared me for a life- long love of writing.
What was your favorite book or author to read when you were a child?
I discovered Tolstoy in 7th grade and loved the fluidity of his work. His books were a little long for my goal though, so I'd have to say that Robin McKinley won me over with The Blue Sword, which led to me reading all of her other works and discovering the fantastic world of Fantasy novels.
How fun! McKinley is one of my favorite authors as well. The Blue Sword is one I re-read every couple of years. Are there any authors or books that have impacted your writing?
So many! As I said before, I had an unrealistic goal- which I had no problems meeting before things like work and kids came along- so I read a lot. Some of my favorites were Tad Williams, Kristen Britain, Sean Russell, and Lois Lowry. Of course I also have to list Rowling, Dashner, and even Stephanie Meyer. I have no prejudices when it comes to a good read and I feel that all of them have influenced my writing in their own way.
I really enjoyed the entire premise of Nation of the Moon. It was fun to read a dystopian story where werewolves were the cause of destruction. What can you tell us about Nation of the Moon, and what was it like being part of a team of authors to create such a fun anthology?
As you mentioned, Nation of the Moon is an anthology involving a werewolf apocalypse in which only the continental United States is affected. The stories cover different viewpoints, from those who become wolves to those who survive the night–and even a few who don't. As my first time working with a group, it was really fun to see how each of us took the initial story line and weaved such different tales from it.
I loved "Dark Assent." I especially loved that you focused on the duality of human nature. What made you want to write from the viewpoint of one of the infected/werewolves?
When I first read the premise, I knew that I had to write from the viewpoint of someone who had been the bad guy so to speak. All the possibilities from the discovery of the character's guilt to how he would react to it and how it would affect him as a person excited me. I've read a lot of stories from the point of view of someone who has lived through an ordeal and it always made me wonder what the other guy's tale would be.
In my own writing, I tend to base some of my characters off of people or characteristics that I know or am familiar with. Were Steve and Kim or any other characters in "Dark Assent" based off of people you know?
They weren't directly based off any real person however, as a mother with young children, I did draw from the emotions I feel I would have had if I had been in a similar situation and some of the basic thought processes I felt any parent would experience.
What else have you written or are you writing that you'd like us to know about?
I'm actually working on a children's book and finishing up the first book in a dystopian YA series. I had high hopes of publishing one of them this year, but life has jumped in and shown me my place, so it'll likely be next year instead.
Sounds fun. Keep all of us at BOD updated so we can read them. Okay, now for some random questions. If you could be a character in any dystopian book/movie/etc., who would it be and why would you choose that world to live in?
That's a toughie. I would have to say Tris from Divergent. Mainly because I felt that I would have made many of the same decisions she did throughout the series, plus in my mind Four reminded me of my husband, so that's a plus.
If you won the lottery what would you do with the money and why?
I'd buy a castle, probably somewhere in Scotland, and retire into my new writing cave. We are living in Europe at the moment and I have loved all the history and culture we have had the chance to experience as we have traveled. Scotland has been my favorite so far with its beautiful Highlands- and furry cows. Plus who could resist the sumptuous sound of those accents? I also discovered I love blood sausage, and I haven't been able to find that anywhere but up in that region.
You had me at accents! I'd come visit. What's your favorite motivational quote and why is it your favorite?
I have no idea who said it, but my fourth grade teacher told me "Good, Better, Best. Never let it rest. Until your Good is Better, and your Better is your Best" and it always stuck with me. It's a good motto to live by in every aspect of your life.
I love that! Yes. Very wise words. Okay, one last question. If you could sum up your best advice for new writers in only four words, what would it be?
Keep writing. I know it's only two, but it's the best to go by. It's easy to let yourself get distracted or focus on how horrible that first draft is, but writing is a process and if you dedicate yourself to it, you'll never fail.
Thank you so much, Elizabeth Nelson, for spending time with me and sharing your talents with all of us at BOD!
LINKS FOR E.M. NELSON
LINKS FOR NATION OF THE MOON
Publisher's Website
Direct Book Link on Publisher's site
Amazon
Goodreads